Share
Close
Movement Ecology During Pregnancy- Scotland
$415
•
Purchase required to enroll
Movement Ecology During Pregnancy: A workshop for doulas, midwives, physical therapists, pre/postnatal fitness trainers…and those they tend to!
Join Katy Bowman and a community of your fellow movement and birthing professionals near Helensburgh, Scotland, for two days of dynamic movement education, walking, nature, and reveling in the power of movement during pregnancy, birth, and birth support.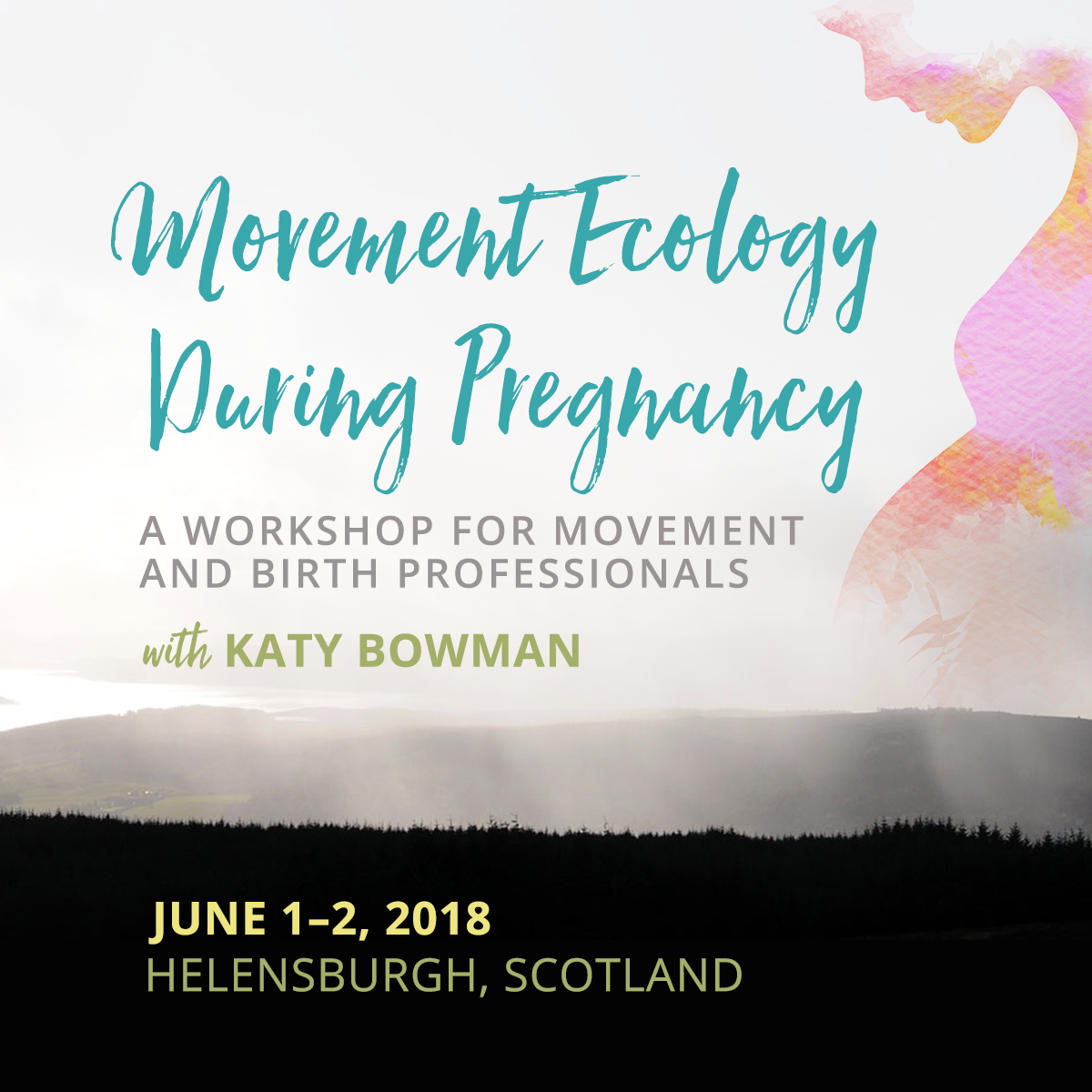 Join Katy Bowman Friday, June 1 (3:00–7:00 p.m.) and Saturday, June 2 (8:00–3:30 p.m.) in Scotland to engage in movement for better birth ecology! We'll be moving "on the mat" at Royal Northern and Clyde Yacht Club (http://www.rncyc.com/), where we'll explore the complex ideas behind alignment, exercise, and movement before, during, and after pregnancy. Apply new and refined movements to your own body, so that as you tend to another's physical needs, you'll also be able to tend to your own.
Technical areas will include: making over the way we sit and stand for better loading, preparatory exercises for squatting, SI-joint stabilizing and mobilizing, and modifying all exercises to the body of your client. We'll also cover the role walking plays in pregnancy and pelvic floor function, the difference between strollers, baby wearing, and baby carrying, and how to "vary your carry" (and adjust your alignment) for pain-free baby tending. We'll touch on movement permaculture—that is, how to help new parents and parents-to-be fit in these moves into their rapidly changing lives.
On day two, we'll take our movement trailside while hiking 7 km up in the highlands via the Tom na h-Airidh trail, for a dynamic outdoor clinic on pregnancy and pain-free walking (and tea and cookies!). Pregnancy, birthing, and birthing support are all physical feats, and on our walk, we'll get to experience the integration of mat exercises into non-exercise time. This will include the relationship between carrying with core strength, i.e. movement ecology, and how a parent's movement can indeed be the facilitator of a child's.
I'm excited to gather with birth and pregnancy workers, fitness professionals who work with mothers, and pregnant women who'd like to learn more about the movements that can best support their hardworking bodies.
About Babies
The facilities are not set up to handle toddlers safely, but in-arm babies are welcome, and if you're travelling with a partner, you are more than welcome to leave our sessions or bring a child in for feeding.
About CEUs
We have not applied for course CEUs, as there are many certifying organizations, each with different requirements. We invite you to petition your organization for credit! Please contact them for more information. For RES-CPT: 10 CEUs.
About Travel
To get a sense of accommodation costs, search hotel.com, vrbo.com, airbnb.com, and Google for places to stay in Helensburgh, Scotland. There are also campgrounds in the area!
Details
Attendance is limited to 30 participants. Note:, you do not have to be a birth professional, although this class will be taught from that perspective.
Registration Required: YES
Cost: $415 USD


Scroll to the bottom, click on the dates, and you'll see the green ENROLL NOW button.
Included: Course, lunch on Saturday, and dynamic tea. 11 instructional hours. Please note: accommodations are not included.

Cancellation policy Cancel more than 30 days prior to the workshop and you will receive a refund, minus $50 processing. Canceling within 30 days of the workshop will receive no refund.
Times are in Pacific Time (US & Canada)
Schedule